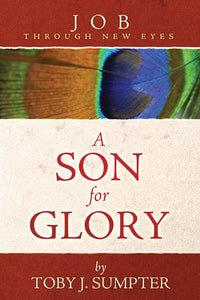 Athanasius Press
Job Through New Eyes: A Son for Glory
Regular price
$18.95
$0.00
Unit price
per
A Son for Glory is contribution to The Through New Eyes Bible Commentary Series. Bible-reading is more of an art than a science. The Bible is a story, not a lexicon of systematic theological definitions.
With this in mind, The Through New Eyes Bible Commentary Series builds on the foundational Biblical-theology work of James B. Jordan and other like-minded scholars in bringing you a set of commentaries that will help you read, teach and preach through the Bible while picking up on the rich symphonic themes and the literary symbolism of the Scriptures. Because they are written for thoughtful Christians without being overly academic, these commentaries will serve as valuable resources for family worship, Sunday school or Bible studies.
ABOUT THE AUTHOR
Toby J. Sumpter is the Pastor of Preaching and Pastoral Care at Trinity Reformed Church in Moscow, Idaho. He and his wife, Jenny, and their four children spend their days playing with dragons and chasing after glory.
---