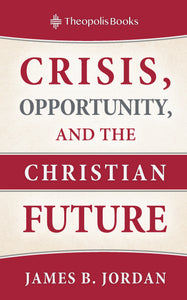 Athanasius Press
Crisis, Opportunity, and the Christian Future (Theopolis Books)
Regular price
$8.95
$0.00
Unit price
per
We are witnessing the end of Western Civilization. The present crisis in our culture is the greatest since the first century. Many commentators on the present scene believe that the entire world is moving into a period of "neo-tribalism."
In this striking book, theologian James B. Jordan argues that this cultural change is part of God's ongoing plan for humanity, the plan by which the Holy Spirit grows God's daughter, humanity, into a fit bride for His Son.
The present crisis provides a tremendous opportunity for the Christian Church to challenge and transform the world as never before. Here, Jordan points to how this can be done.
While many view the present crisis with dismay, and are looking backwards to older traditions, Jordan argues that God is calling us forward, and that the Bible points the way.
Note: The Theopolis Books edition of this book features a new foreword by Theopolis Institute President Peter J. Leithart.
ABOUT THE AUTHOR
James B. Jordan was born in 1949. His father was a professor of French Literature and his mother a piano teacher and a poet. He served as a Military Historian in the U.S. Air Force for four years. He began seminary training at Reformed Theological Seminary in Jackson, MS, and graduated with an M.A.R. and a Th.M. from Westminster Theological Seminary in Philadelphia, majoring in Systematic Theology. In 1987, he founded Biblical Horizons in Niceville, FL. Beginning in 1999, Jordan served part time as Professor of Biblical Studies at the Reformed Theological Seminary of St. Petersburg, Russia. He is the author of more than a dozen books, including From Bread to Wine: Creation, Worship and Christian Maturity, Through New Eyes: Developing a Biblical View of the World, and The Handwriting on the Wall: A Commentary on Daniel, as well as scores of monographs and short essays. 
---