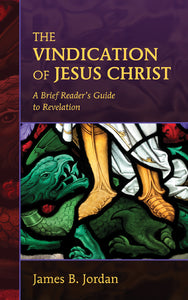 Athanasius Press
The Vindication of Jesus Christ: A Brief Reader's Guide to Revelation
Regular price
$8.95
$0.00
Unit price
per
Although the book of Revelation is said to give a blessing to those who read and hear it, it often results in confusion as well.
Revelation is applicable to all times and occasions in the Church, and because of that it has been interpreted as predicting many different events in history. Naturally, these interpretations all contradict each other which leads many believers to decide that efforts to understand it are a waste of time.
In fact, however, Revelation is not all that difficult to interpret. It completes the history begun in the book of Acts, and is closely tied to everything else that is going on in the apostolic age. It deals with the end of the Old Creation and the full arrival of the New, and then looks forward to the final return of Jesus and the bodily resurrection at the end of history.

Jordan is an expert in Biblical symbolism, and this short reader's guide is the fruit of a five-year study in the book of Revelation.
ABOUT THE AUTHOR
James B. Jordan was born in 1949. His father was a professor of French Literature and his mother a piano teacher and a poet. He served as a Military Historian in the U.S. Air Force for four years. He began seminary training at Reformed Theological Seminary in Jackson, MS, and graduated with an M.A.R. and a Th.M. from Westminster Theological Seminary in Philadelphia, majoring in Systematic Theology. In 1987, he founded Biblical Horizons in Niceville, FL.
Beginning in 1999, Jordan served part time as Professor of Biblical Studies at the Reformed Theological Seminary of St. Petersburg, Russia. He is the author of more than a dozen books, including From Bread to Wine: Creation, Worship and Christian Maturity, Through New Eyes: Developing a Biblical View of the World, and The Handwriting on the Wall: A Commentary on Daniel, as well as scores of monographs and short essays. 
---